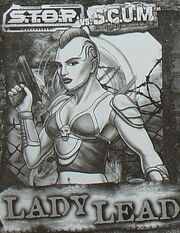 Codename: Lady Lead
Real Name: [unknown]
Position: S.C.U.M. Assassin
Military Training: None
Specialty: Espionage
Official Biography
Edit
A ruthless hired assassin, Lady Lead earned her bones contracting for mobsters worldwide. Incredibly athletic and possessing lethal fighting skills, it is wise not to underestimate her will and ability to destroy an opponent or target. Having a deep-rooted hatred and disdain for all men, Lady Lead fancies herself as an Amazon warrior and has dedicated her life to becoming stronger and more macho than any man. In her relentless pursuit of power and domination, Lady Lead pledged her services to S.C.U.M. - Street Coalition Urban Militia, and has sworn to destroy S.T.O.P. - Special Tactics Operative Patrol and its tireless efforts at establishing rule of law in the streets.
Additional Information
Edit
Ad blocker interference detected!
Wikia is a free-to-use site that makes money from advertising. We have a modified experience for viewers using ad blockers

Wikia is not accessible if you've made further modifications. Remove the custom ad blocker rule(s) and the page will load as expected.